How can I get my own mail domain in the eclipso Business tariff?
You are here:

Help

How can I get my own mail domain in the eclipso Business tariff?
How can I get my own mail domain in the eclipso Business tariff?
An own mail domain gives a professional impression and does not only appear serious and trustworthy in a business environment. Moreover, your own e-mail address is always your own business card. In the tariff eclipso Business you can add a own mail domain @name.tld free of charge in addition to the @eclipso domains already included in your tariff. The duration of the mail domain starts with the booking of the business tariff.

The following top-level domains are available for registration: .at, .be, .de, .ch, .com, .es, .eu, .it, .info, .nl, .net, .org. Further domains on request.
---
How do I order my own mail domain?
We recommend checking in advance whether the domain you want is available. For research, please use tools such as Denic.de, Whois.com or a research tool from a domain provider. You can also use our domain availability tool: Desktop version: Settings > Account | Domain Management.
Log into your eclipso account via the desktop version
Open the

Settings

menu >

Account | Domain management

Check the availability of your desired domain
Then tell us your desired domain, e.g. yourname.de, via our ticket system (Help menu)
After verification and registration we configure your account to use your own mail domain
We will inform you as soon as setup is complete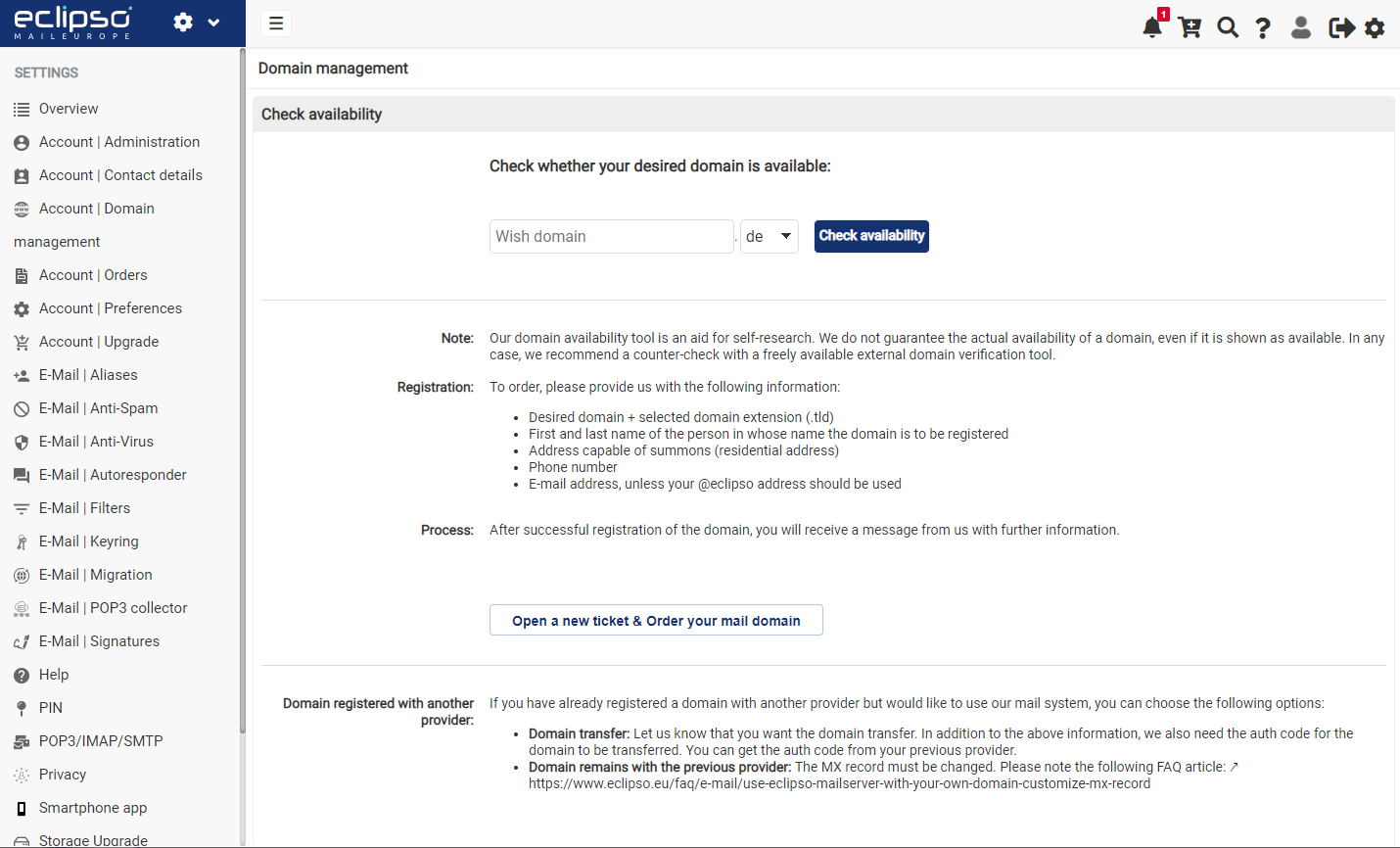 ---
Set up e-mail addresses with their own mail domain
Via the settings menu
E-Mail | Aliases
you can add e-mail addresses to your own mail domain. Certain terms like info@, postmaster@, support@ are blocked by default. If you need addresses with blocked terms, please contact our support. We will set up the desired e-mail addresses for you free of charge.
Help for setting up alias addresses:
↗ https://www.eclipso.eu/faq/e-mail/what-is-an-email-alias-address-and-how-do-i-create-it
---
I already have my own mail domain with another hosting provider, can I still integrate it into my eclipso account?
In order for you to send and receive your e-mails via our server, the corresponding MX record must be changed at your web hosting provider. The corresponding settings are managed in the DNS settings of the domain. You can find more information here:
↗ https://www.eclipso.eu/faq/e-mail/use-eclipso-mailserver-with-your-own-domain-customize-mx-record

The own mail domain is no longer available when the term ends and the booking period is no longer extended. If the booking period is not extended or renewed. If after the end of the booking period an automatic downgrading to the eclipso Freemail tariff takes place, the own mail domain will be deactivated. From this point on it is no longer possible to receive or send e-mails via your own mail domain.