How to set up an POP account on Outlook 2019 / 365
You are here:

Help

How to set up an POP account on Outlook 2019 / 365
How to set up an POP account on Outlook 2019 / 365
In this step by step tutorial you will learn how to connect and set up your eclipso e-mail account via POP3 with Microsoft Outlook 2019 / 365 for PC or Mac.




This guide assumes that Microsoft Outlook 2019 / 365 is already set up and ready to work on the PC or Mac. The display may vary from version to version.

 
How do I set up my e-mail account in Microsoft Outlook (POP3)?
1. Start Microsoft Outlook 2019 / 365 on your PC or Mac
If you have Microsoft Outlook 2019 / 365 open, click the
File
tab at the top left to open the
Account information
menu.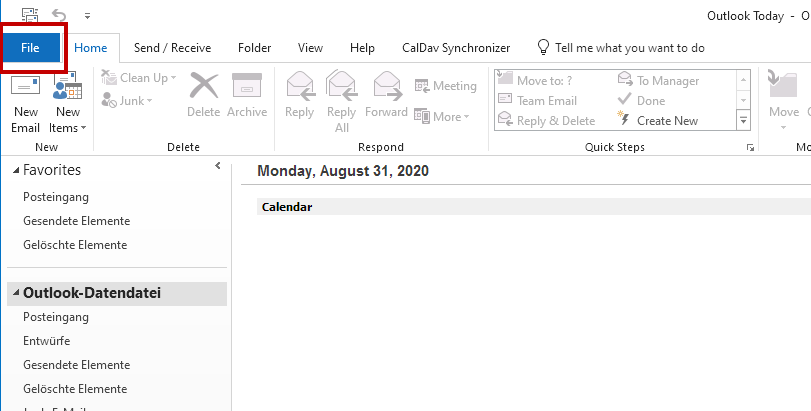 ---
2. Add account
Now click the
+ Add account
button. This starts the setup wizard.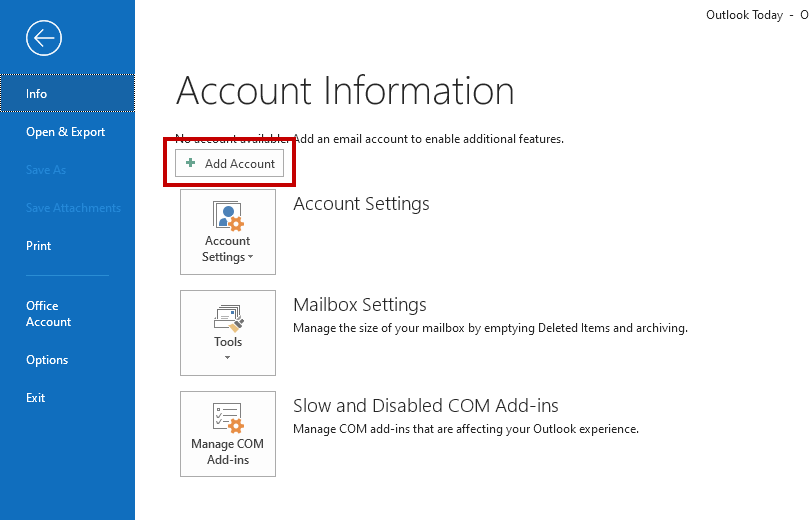 ---
3. Enter email address
Now enter your complete eclipso e-mail address and click on
Connect
.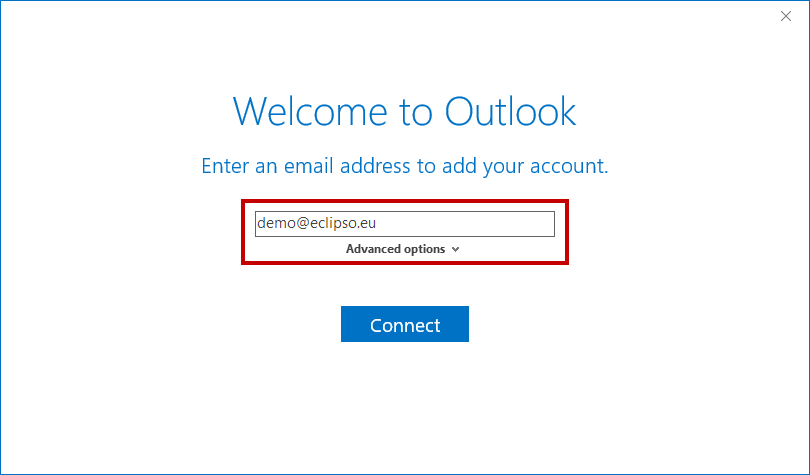 ---
4. Automatic configuration
Outlook 2019 now tries to establish a connection to the eclipso mail servers.
➥ If no automatic connection could be established here, continue with the manual setup
(Point 7)
.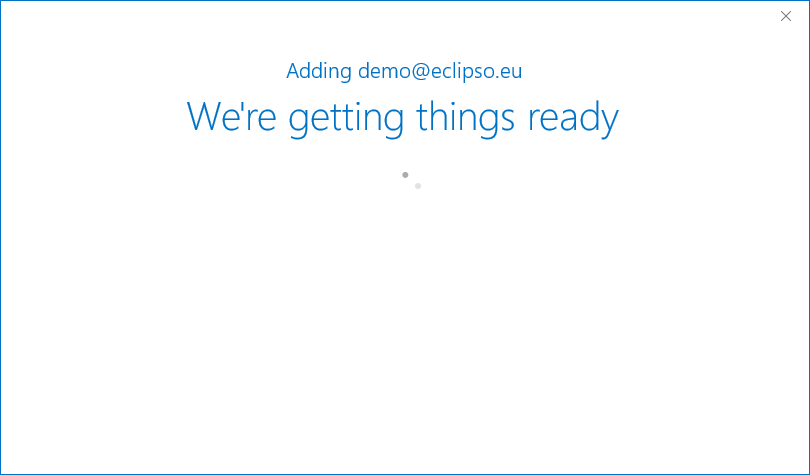 ---
5. Enter password
If the connection was successfully established, you will now have to enter your password to your account. The password is the same as for your access via the web interface.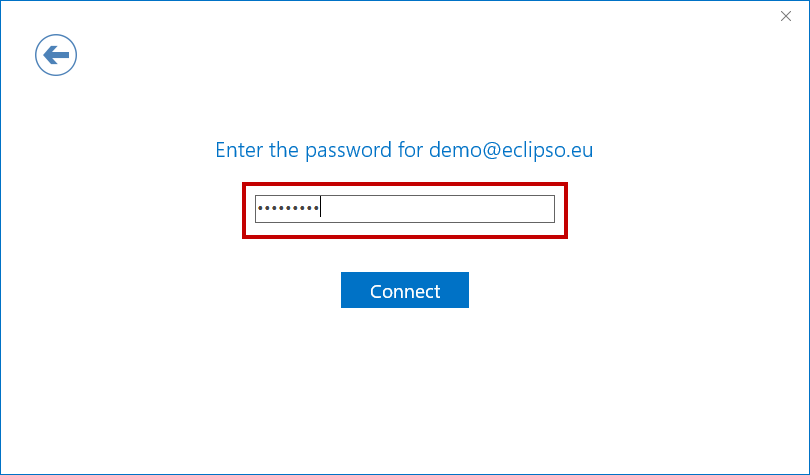 ---
6. Account setup complete
Outlook 2019 now configures your account. The setup of your POP3 account in Microsoft Outlook 2019 / 365 has been successfully completed.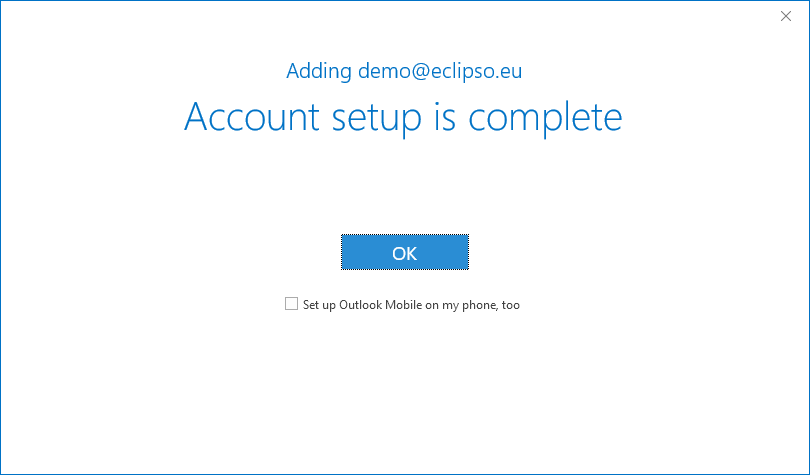 ---
---
7. Set up account manually
If the automatic account setup has failed, please check your information. You can use the wizard for manual account setup.
First repeat steps 1 to 3.
Then click

Advanced options

.
Check the box next to "Let me setup my account manually".
Click

Connect

.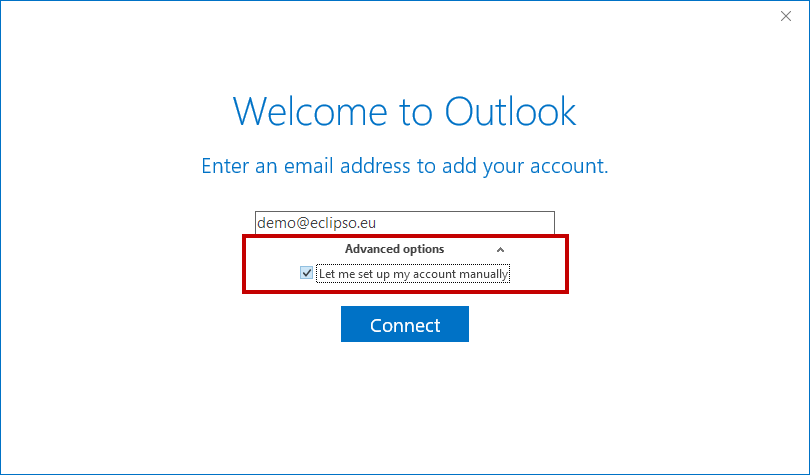 ---
8. Choose account type POP
Select the POP account type to connect Outlook to your account via POP3.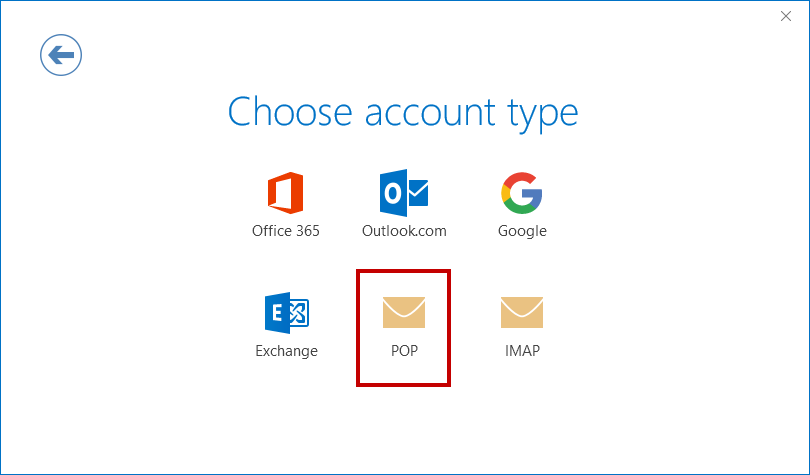 ---
9. Enter POP account settings manually - SSL/TLS
Now enter the connection data manually. Outlook 2019 / 365 may already have entered data. Check the data.
Incoming mail: mail.eclipso.de | Port 995
Check "This server requires an encrypted connection (SSL/TLS)"
Outgoing mail: mail.eclipso.de | Port 465
Encryption method [ SSL/TLS ]
Click on

Next

and continue with point 5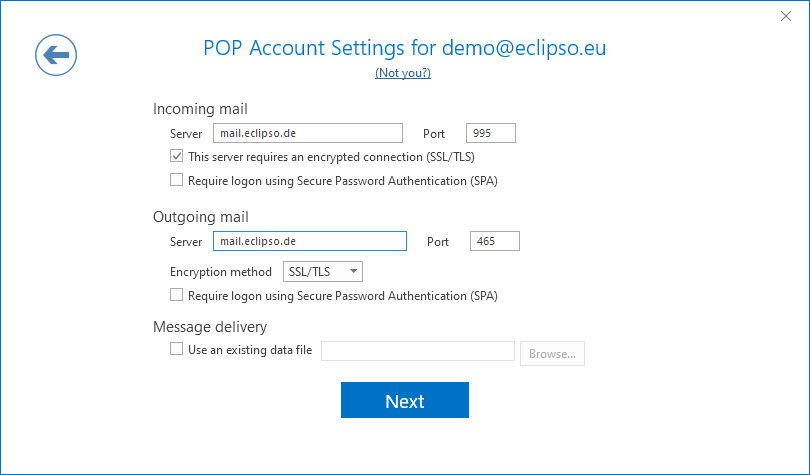 ---
10. Enter SMTP account settings manually - STARTTLS
As an alternative to the SSL/TLS encryption method, you can also select STARTTLS for the SMTP server (outgoing e-mail). Change the following entries:
Incoming mail: mail.eclipso.de | Port 995
Check "This server requires an encrypted connection (SSL/TLS)"
Outgoing mail: mail.eclipso.de | Port 587
Encryption method [ STARTTLS ]
Click on

Next

and continue with point 5